Our History & Current Team
60 years of Family and Bicycles......
From The Humblest Beginnings.....
First days of Fred Sr. fixing bikes out of his garage on 4th and Elphinstone. Circa 1962
Fred Sr is the original owner of Dutch Cycle in Canada. He immigrated to Canada during the war with his family and began his shop from humble roots. Dutch cycle originated on 4th and Elphinstone before finally opening a brick and mortar store on 8th avenue. Fred Sr's dad started Dutch Cycle in Holland in 1897. Fred Sr passed away in 2010 at 87 years of age. We are forever grateful for all he did for us!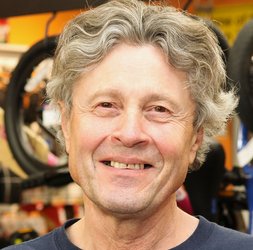 Fred Vandelinden (Fred#2)
Fred is the son of Fred Sr and one of the original three. Fred spent most of his spare childhood hours helping his father grow the business from a garage repair shop to the retail operation we have presently. Fred is an avid cyclist and bike collector and is responsible for the gallery of history you see around the store. If you're lucky, you will catch Fred at the store every now and then. He loves to talk old bikes!
Lawrence is one of the original three of Dutch cycle. He is Fred Sr's second son. Lawrence has also worked in the shop like his brother Fred. Being the younger has always had him chasing the few extra years his brother had. Lawrence is our Service Department operator as well as President of our company. Its only fitting that he still greets everyone as if they are family. You may even get razzed before you get the "Dutch Touch" performed on your bike. Lawrence can make the ugliest bikes sing again!
Freddy and Lawrence are the current owners of Dutch cycle. Freddy has worked here for over 30 years and has been into all aspects of cycling. He started working in the shop before he was 10 with his grandpa, Fred Sr. Often referred to as Fred Sr's right hand man, working in the bike shop is all he ever knew and knows! Freddy now runs the back end of the business and is our Retul fitter here at the store!
Larry has been working in the service side of the business for over 12 years now. He is passionate about drawing and loves to spend time immersed in art and music. He is Lawrence's son and the Service Department manager. He has evolved into a great mechanic and loves to ride his E bike around town!
Roy has been with Dutch cycle since 2001 and is currently our sales manager/partner.
Roy's roots in cycling come from the 90's free ride era. The first bike he bought was a Kona Stinky that he rode of the roof of his house, many broken bones later he keeps his assualt to the ground now!
Roy has a back ground in carpentry and construction. Roy has his daughter working with him now on the weekends and that just seems to be the norm at Dutch!
Lee has been with Dutch Cycle for four years now and is on our service side. Lee comes from a BMX and skateboard history as his first connection with cycling. Lee has worked in the farming industry as well as other positions in the cycling industry.
He currently is our all season riding guru, fat bike, bike packer extraordinaire! Lee loves working on bikes and continuing his passion with wrenching at a much lighter level! Lee, Lawrence and Larry are the core of our service department!
Shane has been working with Dutch Cycle for the last five years. Shane's passion for cycling is gravel/bike packing. Shane has worked in all aspects of the store and came to us from CAA to be full time last year. Shane is incredibly capable to answer your questions on anything from Ebikes to the best pannier bags. We are happy to have Shane on board and you can bet he is excited to be here!
Drew has been working with Dutch cycle now for four years! He came on as a part time student and as he has been pursuing his education at the University of Regina he has worked with us. Drew has a great way of connecting people to the right bike for what they want to do. He is a bright young man with an even brighter future! For now we are proud to have him on our team!
Logan has been with Dutch Cycle for the last two years as a part time summer student as he pursues his eduction at the University of Regina. Logan just got himself a beautiful Kona Libre gravel bike and plans on expanding his cycling horizons that way. Logan is a welcomed addition to our sales team and is more of a full time employee this summer!